Gluten-free Churro Waffles!
Created this awesome recipe using our Chocolate Almond Bar Peanut Powder and now you can too! If you have an awesome recipe, let us know by tagging
@FlavoredPBCo
and #FlavoredPBCo
Ingredients:
1 Serving Flavored PB Chocolate Almond Bar
Waffle Mix
Butter or Coconut Oil Spray
Cinnamon/Sugar
Sugar Free Chocolate vanilla Pudding
Preparation:
Just make your waffles according to their directions
Coat with butter or coconut oil spray
Sprinkle with desired about of a cinnamon/sugar blend to get churro effect (can use any sugar substitute, I used Truvia baking blend).
The dipping sauce is ready made sugar free chocolate vanilla pudding, topped with a layer of our Chocolate Almond Bar
Just use a serving or so of either Chocolate or Salted Caramel Flavored PB spread mixed with water, as a dip, too😋 Enjoy 👩🏼‍🍳
Nothing's more classic than chocolate and Almonds...think of that oh so familiar milk chocolate bar studded with almond chunks. Our Chocolate Almond Bar flavored peanut powder is made with premium Dutch processed cocoa, all natural Almond flavoring, hints of real vanilla, sea salt, and chunks of toasted almonds. Get that smooth chocolaty taste with little bursts of almond for a sweet and salty treat sure to satisfy! While all of our flavors have multiple uses and are amazing just mixed with water into a spread. Create a lip smacking S'mores treat by mixing our chocolate almond bar with equal parts whipped topping and marshmallow fluff and spreading onto graham crackers, you'll have everyone begging for S'more! For more scrumptious ideas visit our recipe section and our free downloadable e-book. 
Ingredients: Non-GMO Peanut Powder, Maltodextrin, Cane Sugar, Almond Bits, Cocoa Powder, Natural Flavoring, Sea Salt, Stevia.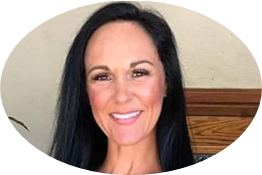 About Heather
A little thing about me: I love peanut butter. Growing up I wanted to be a food stylist. I have been into fitness my entire life and love helping people.